Yes, cloud-based MOT management is now a reality! We, at MOT Diary, have made it possible. By virtue of our collaboration with DVLA, your garage can make the most of first-hand access to the extensive MOT database.
What Not To Miss?
Did we mention the first 25 lookups are offered absolutely free when you first sign up your garage? Yes, our digital diary will let you in on the detailed MOT specifics (MOT expiry date, VIN, engine number, MOT history, tyre data, and more) like no other app or any other tool will! Live DVLA MOT data we have tied up for, makes it possible. Twenty-five such detailed lookups are indeed valuable! We're certain you will want to further explore our packages for more.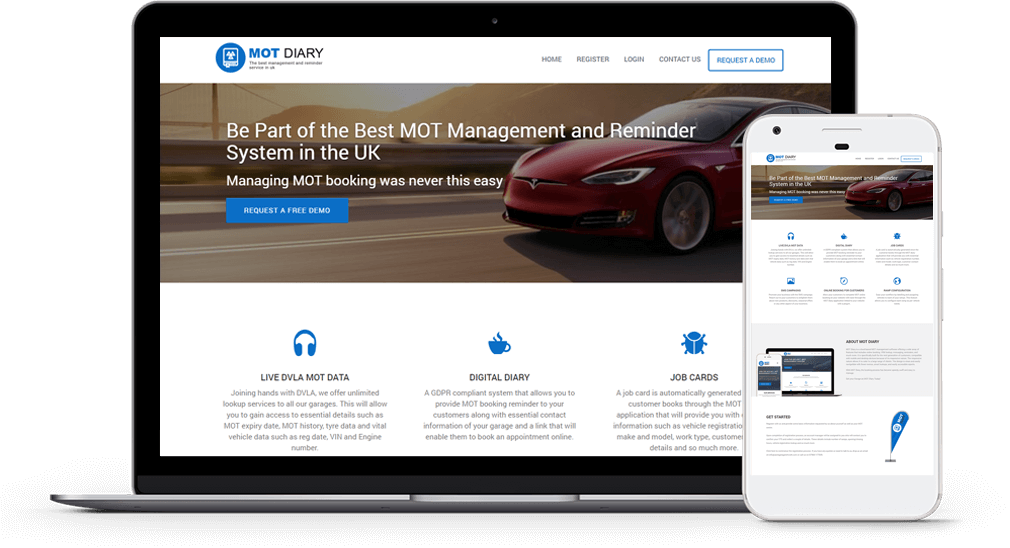 It's Feature-loaded!
1
Other than the not to miss feature, the software comes with a smart feature, a job card that is auto-generated once the client books an MOT. The card details for you every vehicle specification, type of work needed on the vehicle, and other such essential information.
2
Since the MOT Diary is digital, your clients can relish online booking of MOT with you, and the software with its built-in intelligence will send out automatic reminders, through email, SMS, and other messaging services, to everyone on your client contact list.
3
The SMS campaign is also auto-generated to every client so that he/she keeps abreast of your latest products, schemes, seasonal offers, and other imperative updates regarding your business.
4
The software allows easy ramp configuration as per specific vehicle need, to not only improve assigning vehicles to ramps but also helps streamline all garage operations.
Are you looking to free yourself of the last minute MOT hassles? MOT Diary offers MOT reminder and a solution to every other MOT related problem. Here are our pricing packages at a glance:
Reach us at www.motdiary.co.uk to know more about the expertise our software offers; we shall be happy to assist you.